Chainbreaker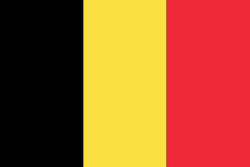 About
Tell us about yourself?:

Metalhead from Belgium. Started listening to metal in the 90'ies. First thing metal I came in touch with was a tape a classmate made for me of a live bootleg album titled "Argentina Grita" by Metallica. Instantly fell in love with songs like "Harvester of Sorrow", " Creeping Death" and "Seek and Destroy". First cd I ever bought was "A Real Dead One" from Iron Maiden. I played that album so many times that the cd just falls out of the jewelcase, because the middle is so worn down from frequentely taking it out . I like a lot of bands but have a real soft spot for 80ies stuff. Big fan of Iron Maiden, Judas Priest, Manowar, Saxon, Sacred Steel, Gwar, Twisted Sister, Bal Sagoth, Bolt Thrower, Virgin Steele, Grave Digger, Helloween, Iron Savior, Ancient Rites and numerous more.

What's your reason for joining tshirtslayer?:

Never owned a battle jacket, but I'm making up for lost time and making one now. Like to share it with you guys. Also love looking at all the battle jackets on here.

Do you goto any festivals or shows?:

Yes, definitively.
Graspop almost every year since 1999.
Arrow Rock Nijmegen once (for Kiss, Twisted Sister, Journey, Reo Speedwagon, Kansas)
Very 'Eavy Festival Stadskanaal 2015 and also this year, Yeah!
Numerous shows (can't list them all, but the ones that come to mind are Gwar , Gamma Ray, Helloween, Saxon, Grave Digger, Hammerfall, Hyades, Onslaught, Primal Fear, Brainstorm, Ancient Rites, Axel Rudi Pell, Megadeth, Evile, Stormwarrior, Evidence One, Manowar, Queen, Deep Purple, Sabaton, AC/DC, The Darkness, Firewind, Pagan's Mind, Thin Lizzy, U.D.O.)

Favourite album ?:

Can't choose just one. Probably Scumdogs of the Universe by Gwar, but also A Real Dead One by Iron Maiden, Hell on Wheels by Manowar,...

Which bands are you into?:

How did you find out about TShirtSlayer? :

By accident, looking at battle jackets

Last Seen Wearing

I have not marked anything as currently worn yet! sorry!
Upload stats

| Count | Type |
| --- | --- |
| 4 | TShirt or Longsleeve |
| 4 | Tape / Vinyl / CD / Recording etc |
| 11 | Patch |
| 4 | Other Collectable |
| 4 | Battle Jacket |

Upload trade status

| Count | Type |
| --- | --- |
| 7 | Sale or Trade |
| 20 | Not for sale or trade |

Bands uploaded

| Count | Band |
| --- | --- |
| 5 | Helvetets Port |
| 5 | Iron Maiden |
| 5 | Twisted Sister |
| 4 | Manowar |
| 4 | Sacred Steel |
| 4 | Savatage |
| 4 | Blind Guardian |
| 4 | Kiss |
| 4 | Iced Earth |
| 3 | Cirith Ungol |
| 3 | Iron Savior |
| 3 | Gwar |
| 3 | Angra |
| 3 | Grave Digger |
| 3 | Rush |
| 3 | Ancient Rites |
| 3 | Judge Dredd |
| 3 | Helloween |
| 3 | Metallica |
| 3 | Iron Kobra |
| 3 | Thor |
| 3 | Mötley Crüe |
| 3 | Virgin Steele |
| 3 | Overkill |
| 3 | Anthrax |
| 3 | Whitesnake |
| 3 | HammerFall |
| 3 | Onslaught |
| 3 | Running Wild |
| 3 | Manilla Road |
| 2 | W.A.S.P. |
| 2 | Raven |
| 2 | Dio |
| 2 | Stormwarrior |
| 2 | The Rods |
| 2 | Megadeth |
| 2 | Primal Fear |
| 2 | Krokus |
| 2 | Alice Cooper |
| 2 | X-cops |
| 2 | King Diamond |
| 2 | Extreme |
| 2 | Mercyful Fate |
| 2 | Samantha Fox |
| 2 | Bolt Thrower |
| 2 | Paragon |
| 2 | Def Leppard |
| 2 | Judas Priest |
| 1 | Slayer |
| 1 | Rainbow |
| 1 | Tysondog |
| 1 | The Darkness |
| 1 | Gamma Ray |
| 1 | Magister Templi |
| 1 | Monsters Of Rock |
| 1 | Ted Nugent |
| 1 | Eternal Champion |
| 1 | Gary Moore |
| 1 | Hammer King |
| 1 | Accept |
| 1 | Bal Sagoth |
| 1 | Beavis And Butt-head |
| 1 | Logar's Diary |
| 1 | Venom |
| 1 | Scanner |
| 1 | Phoenix Rebellion |
| 1 | Skeletor |
| 1 | Riot |
| 1 | Ostrogoth |
| 1 | Angel Witch |
| 1 | Dream Theater |
| 1 | Agent Steel |
| 1 | Bruce Dickinson |
| 1 | Avantasia |
| 1 | Bal-Sagoth |
| 1 | Züül |
| 1 | Saxon |
| 1 | Killer |
| 1 | Tankard |
| 1 | Ozzy Osbourne |
| 1 | Skiltron |

Show all bands

Last logged in

2 months 2 weeks ago

Member for

4 years 8 months

Is following...

No friends added/following