Spectrum
Trade history
2 pending seller/trader reviews
53 great seller/trader reviews
39 items received from others
More info click here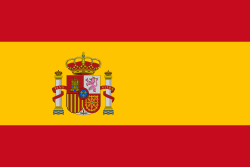 About
Tell us about yourself?:

WANTLIST:

-Sodom - In the sign of evil Backopatch

What's your reason for joining tshirtslayer?:

Do you goto any festivals or shows?:

MY LIFE IS METAL,CHAOS & DEATH

Favourite album ?:

MOTÖRHEAD (all), IRON MAIDEN-Somewhere in time/Powerslave, DIO-Holy Diver, IRON ANGEL-Hellish Crossfire, MORBID SAINT-Spectrum Of Death, VIOLENT FORCE-Malevolent Assault Of Tomorrow...

How did you find out about TShirtSlayer? :

Last Seen Wearing

I have not marked anything as currently worn yet! sorry!
Upload stats

| Count | Type |
| --- | --- |
| 51 | TShirt or Longsleeve |
| 10 | Tape / Vinyl / CD / Recording etc |
| 174 | Patch |
| 2 | Other Collectable |
| 17 | Battle Jacket |

Upload trade status

| Count | Type |
| --- | --- |
| 1 | Wanted |
| 68 | Trade Only |
| 3 | Sold |
| 51 | Sale or Trade |
| 66 | Sale only |
| 65 | Not for sale or trade |

Bands uploaded

| Count | Band |
| --- | --- |
| 33 | Motörhead |
| 17 | Iron Maiden |
| 16 | Judas Priest |
| 15 | Saxon |
| 15 | Celtic Frost |
| 15 | Sodom |
| 15 | Destruction |
| 14 | Scorpions |
| 13 | Desaster |
| 12 | Venom |
| 12 | Death |
| 12 | Morbid Angel |
| 11 | Accept |
| 11 | Sepultura |
| 10 | Obituary |
| 9 | In Solitude |
| 8 | Children Of Technology |
| 7 | Kreator |
| 6 | Dismember |
| 6 | Megadeth |
| 6 | Deströyer 666 |
| 6 | Pestilence |
| 6 | Metal Inquisitor |
| 5 | Exciter |
| 5 | Cruel Force |
| 5 | Iron Curtain |
| 5 | Bolt Thrower |
| 5 | Tankard |
| 5 | AC/DC |
| 5 | Slayer |
| 5 | Gorguts |
| 4 | Napalm Death |
| 4 | Breaker |
| 4 | Carnivore |
| 4 | Possessed |
| 4 | Annihilator |
| 4 | Misfits |
| 4 | Coroner |
| 4 | Obsessör |
| 4 | Unleashed |
| 4 | Hellhammer |
| 3 | Witchfinder General |
| 3 | Cast Iron |
| 3 | Bulldozing Bastard |
| 3 | Morgoth |
| 3 | Insulters |
| 3 | Holosade |
| 3 | Manowar |
| 3 | Running Wild |
| 3 | Axe Victims |
| 3 | Mercyful Fate |
| 3 | King Diamond |
| 3 | Benediction |
| 3 | Tokyo Blade |
| 3 | Kruiz |
| 3 | Sarcofago |
| 3 | Necrophobic |
| 3 | OLD |
| 3 | Midnight |
| 2 | Gehennah |
| 2 | Armoured Angel |
| 2 | Insulter |
| 2 | Angel Of Damnation |
| 2 | Baphomet's Blood |
| 2 | Darkthrone |
| 2 | Dio |
| 2 | Power From Hell |
| 2 | Anthrax |
| 2 | Exumer |
| 2 | Striker |
| 2 | Nihilist |
| 2 | D.R.I. |
| 2 | Autopsy |
| 2 | Iron Angel |
| 2 | Manilla Road |
| 2 | Sadus |
| 2 | Meat Loaf |
| 2 | Violent Force |
| 2 | Sanctuary |
| 2 | Morbid |
| 1 | Megaslaughter |
| 1 | Predator |
| 1 | Mercyful Fate Holosade |
| 1 | Intolerance |
| 1 | Undefined |
| 1 | Motorheaf |
| 1 | Baron Rojo |
| 1 | Roar |
| 1 | Iced Earth |
| 1 | Monumentor |
| 1 | Pungent Stench |
| 1 | Miaden |
| 1 | Sadistic Intent |
| 1 | Blizzard |
| 1 | Dokken |
| 1 | Rogue Male. Shrine |
| 1 | Vulcano |
| 1 | Accpet |
| 1 | Cauldron |
| 1 | Armored Angel |
| 1 | Cities |
| 1 | Körgull The Exterminator |
| 1 | Ram |
| 1 | Deicide |
| 1 | Razor |
| 1 | Hellräisers |
| 1 | Mgła |
| 1 | Combat Noise |
| 1 | Extreme Noise Terror |
| 1 | Korrozia Metalla |
| 1 | Warlord |
| 1 | Axecutor |
| 1 | Inquisition |
| 1 | ATARAXY |
| 1 | Perversifier |
| 1 | INCUBUS |
| 1 | At The Gates |
| 1 | Dmnation |
| 1 | Bestial Hordes |
| 1 | Mortal Sin |
| 1 | Zarathustra |
| 1 | Bathory |
| 1 | Mötley Crüe |
| 1 | Funebre |
| 1 | Motörhead Blizzard Scorpions |
| 1 | Testament |
| 1 | Liver Destroyer |
| 1 | Leather Vest |
| 1 | Gospel Of The Horns |
| 1 | Nifelheim |
| 1 | Exorcist |
| 1 | Omission |
| 1 | Warfare |
| 1 | Master |
| 1 | Agent Steel |
| 1 | Gorement |
| 1 | Celtic Frost |
| 1 | Damnation |
| 1 | Machetazo |
| 1 | Excoriate |
| 1 | Okkulto |
| 1 | Nocturnal |
| 1 | Rage |
| 1 | Demigod |
| 1 | Cradle Of Filth |
| 1 | Evil Angel |
| 1 | URN |
| 1 | Omega |
| 1 | Vindicator |
| 1 | Asphyx |
| 1 | Dark Angel |
| 1 | Crimson Glory |

Show all bands

Last logged in

2 hours 55 min ago

Member for

9 years 1 month

Is following...


music4u, Live_wire, Spectrum, Helmi anselmo, 90MaidenFan, denimandleather, Rotten69, Cannibal corpse fan, Beer Destroyer