rafaelkempp
Trade history
0 items received from others
This member does not have any trade history.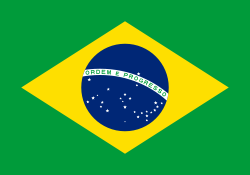 About
Tell us about yourself?:

Hail Warriors!

I'm Rock 'n' Rafa - Hard as Steel, Hot as Hell!!! ;-)

What's your reason for joining tshirtslayer?:

I always access the website for pictures and collections of shirts and I want to share my photos.

Do you goto any festivals or shows?:

in Brazil (Sao Paulo) have only underground festivals of local bands like Savageria, Comando Nuclear, Leather Face, Fire Strike and more

Which bands are you into?:

How did you find out about TShirtSlayer? :

Last Seen Wearing

I have not marked anything as currently worn yet! sorry!
Upload stats

| Count | Type |
| --- | --- |
| 42 | TShirt or Longsleeve |
| 10 | Tape / Vinyl / CD / Recording etc |
| 2 | Patch |
| 11 | Other Collectable |
| 5 | Battle Jacket |

Upload trade status

| Count | Type |
| --- | --- |
| 70 | Not for sale or trade |

Bands uploaded

| Count | Band |
| --- | --- |
| 14 | Grave Digger |
| 12 | Manowar |
| 11 | Running Wild |
| 10 | Battalion |
| 8 | Exciter |
| 8 | U.D.O. |
| 8 | Rocka Rollas |
| 7 | Bewitched |
| 7 | Omen |
| 7 | X-Wild |
| 7 | Paragon |
| 7 | Exodus |
| 6 | Overkill |
| 6 | Metal Church |
| 6 | Accept |
| 6 | Metaltex |
| 5 | Unrest |
| 5 | Judas Priest |
| 5 | Sodom |
| 5 | Warrant |
| 4 | Desaster |
| 4 | Vanize |
| 4 | Living Death |
| 4 | Hazy Hamlet |
| 4 | Dio |
| 4 | Venom |
| 4 | Iron Angel |
| 4 | Destruction |
| 4 | Metal Inquisitor |
| 3 | Saxon |
| 3 | Testament |
| 3 | Stormwitch |
| 3 | HEADHUNTER |
| 3 | Capricorn |
| 3 | Blazon Stone |
| 3 | Onslaught |
| 3 | Picture |
| 3 | Slayer |
| 3 | Gladiators |
| 3 | Iced Earth |
| 3 | Anvil |
| 3 | Sepultura |
| 3 | Metalucifer |
| 3 | Iron Maiden |
| 3 | Kreator |
| 3 | Avenger |
| 3 | HammerFall |
| 3 | Hallows Eve |
| 3 | Helloween |
| 3 | Tyrant |
| 3 | Sanctuary |
| 3 | Dragonheart |
| 3 | Riot |
| 2 | Cast Iron |
| 2 | Twisted Sister |
| 2 | Clenched Fist |
| 2 | The Rods |
| 2 | W.A.S.P. |
| 2 | Angel Witch |
| 2 | Nocturnal |
| 2 | Agent Steel |
| 2 | Hellish War |
| 2 | Axecuter |
| 2 | SHMA |
| 2 | Warlock |
| 2 | Sacred Steel |
| 2 | Nocturnal Breed |
| 2 | Rage |
| 2 | Celtic Frost |
| 2 | Exumer |
| 2 | Possessed |
| 1 | Axcuter |
| 1 | Savatage |
| 1 | Warlord |
| 1 | Candlemass |
| 1 | Brave |
| 1 | White Skull |
| 1 | Mercyful Fate |
| 1 | Sabbat |
| 1 | Blackchest |
| 1 | Liege Lord |
| 1 | Dream Evil |
| 1 | Jag Panzer |
| 1 | Heavy Load |
| 1 | Forbidden |
| 1 | Violent Force |
| 1 | Ratt |
| 1 | Angel Dust |
| 1 | Jack Starr Burnning Starr |
| 1 | Grim Reaper |
| 1 | Artillery |
| 1 | Crystal Viper |
| 1 | Angus |
| 1 | Dominus Praelii |
| 1 | Heathen |
| 1 | Loudness |
| 1 | Cross Fire |
| 1 | Ironsword |
| 1 | Warhead |
| 1 | Riding Storm |
| 1 | King Diamond |
| 1 | Motörhead |
| 1 | Vampyr |
| 1 | Breakout |
| 1 | Breitenhold |
| 1 | Samson |
| 1 | Final Nightmare |
| 1 | Nosteratu |
| 1 | Tattoo |
| 1 | Gravestone |
| 1 | Manilla Road |
| 1 | Sweet Danger |
| 1 | Gamma Ray |
| 1 | True Metal |
| 1 | Selvageria |
| 1 | Hellhammer |
| 1 | Grey Wolf |
| 1 | Mercyful Fatr |
| 1 | Black Sabbath |
| 1 | Primal Fear |
| 1 | Jack Starr Burning Starr |
| 1 | Fire Strike |
| 1 | Voivod |
| 1 | Sabaton |

Show all bands

Last logged in

1 year 6 months ago

Member for

8 years 5 months

Is following...


MetalionWarrior, leonardeaux, Daiane Patricia, Metalium1930, PURGAS, Philip_Wild, dani72, Keeperofthesevenkeys, Hárbarðr, Lygia_BR, metalgod1981, Rocka Rollas, Victoria Metalo..., DeVine, Sarosxx, darlandefreitas, meaningless, Rotting Blood, Goddess of Iron, HellBentForLeather, hevi-jorma, HM Maniac, necromancer_, Helio Junior, Lucas Lima91, anderson carval..., thermonuclear_w..., komlentor, Rodring Wild, VoodooChild, brenobutcher, MetaLuciofer, Daniel Sodomaniac, MetalHeart