Jevi
Trade history
0 items received from others
This member does not have any trade history.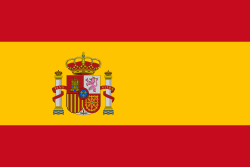 About
Tell us about yourself?:

I`m a metalhead who discovered metal in the late 80's, since then I´ve played in Heavy Metal bands and bought anything Metal related I could afford.

Currently I'm part of heavy metal radio show called "Corsarios del Metal" ( Metal Privateers) and redhardnheavy.com

What's your reason for joining tshirtslayer?:

Sharing my stuff and enjoy watching metal merchandise and albums

Do you goto any festivals or shows?:

I've been to some editions of Monsters of rock, Hellfest, Gods of metal, Graspop Metal Meeting, Wacken and many more. Also I've seen hundreds of bands on their own tours.

Which bands are you into?:

Last Seen Wearing

I have not marked anything as currently worn yet! sorry!
Upload stats

| Count | Type |
| --- | --- |
| 114 | TShirt or Longsleeve |
| 5 | Tape / Vinyl / CD / Recording etc |
| 10 | Other Collectable |
| 15 | Battle Jacket |

Upload trade status

| Count | Type |
| --- | --- |
| 144 | Not for sale or trade |

Bands uploaded

| Count | Band |
| --- | --- |
| 15 | Iron Maiden |
| 12 | Running Wild |
| 12 | Anthrax |
| 9 | W.A.S.P. |
| 9 | Judas Priest |
| 8 | Megadeth |
| 8 | Kiss |
| 8 | Slayer |
| 7 | Dio |
| 7 | Loudness |
| 6 | Scorpions |
| 6 | Kreator |
| 6 | Black Sabbath |
| 6 | Accept |
| 6 | Helloween |
| 5 | Motörhead |
| 5 | Testament |
| 4 | Metallica |
| 4 | Vicious Rumors |
| 4 | Celtic Frost |
| 4 | Aria |
| 4 | Stryper |
| 4 | Ozzy Osbourne |
| 4 | Saxon |
| 3 | Exciter |
| 3 | Twisted Sister |
| 3 | King Diamond |
| 3 | Dokken |
| 3 | Mötley Crüe |
| 3 | Alice Cooper |
| 3 | Crimson Glory |
| 3 | Manowar |
| 3 | Warlock |
| 3 | Anvil |
| 3 | Sodom |
| 3 | Overkill |
| 2 | Riot |
| 2 | Death Angel |
| 2 | Pantera |
| 2 | Obús |
| 2 | Death |
| 2 | Agent Steel |
| 2 | Kat |
| 2 | Kruiz |
| 2 | Savatage |
| 2 | Venom |
| 2 | Sepultura |
| 1 | Cradle Of Filth |
| 1 | Vinnie Vincent Invasion |
| 1 | Trouble |
| 1 | Yngwie J. Malmsteen |
| 1 | Pink Cream 69 |
| 1 | Satan's Host |
| 1 | Wrathchild America |
| 1 | Ratt |
| 1 | Quiet Riot |
| 1 | Queensryche |
| 1 | Annihilator |
| 1 | Ram |
| 1 | AC/DC |
| 1 | Obús; Sepultura |
| 1 | Stormwitch |
| 1 | Whitesnake |
| 1 | D.R.I. |
| 1 | Deep Purple |
| 1 | Secrecy |
| 1 | Turbo |
| 1 | Coroner |
| 1 | Niagara |
| 1 | Royal Hunt |
| 1 | Manilla Road |
| 1 | Avenger |
| 1 | Barricada |
| 1 | Wacken Open Air |
| 1 | Leatherwolf |
| 1 | Nasty Savage |
| 1 | Jag Panzer |
| 1 | Tygers Of Pan Tang |
| 1 | Transmetal |
| 1 | Obsession |
| 1 | Exodus |
| 1 | Agressor |
| 1 | Lizzy Borden |
| 1 | Obus |
| 1 | Defender |
| 1 | Midas Touch |
| 1 | SADO |
| 1 | Def Leppard |
| 1 | Júpiter |
| 1 | Dragon |
| 1 | Metal Church |
| 1 | Obituary |
| 1 | Sortilege |
| 1 | Type O Negative |
| 1 | Iced Earth |
| 1 | Living Death |
| 1 | Y&T |
| 1 | Suicidal Tendencies |
| 1 | Cacophony |
| 1 | Angra |

Show all bands

Last logged in

19 hours 4 min ago

Member for

11 years 1 week

Is following...


Shankao, Jevi