Dorian Le Fauve
Trade history
2 pending seller/trader reviews
26 great seller/trader reviews
2 neutral seller/trader reviews
0 items received from others
More info click here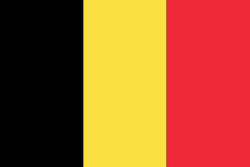 About
Tell us about yourself?:

Hi Metalheads ! am Dorian from the Earth (native from Belgium), i listen Metal since '87, am an old school but i find good and bad in each kind.

What's your reason for joining tshirtslayer?:

To sell rare stuff from '80 and '90 (besides cd) and make some collectors happy.

Do you goto any festivals or shows?:

Of course dudes, BA, GMM, HF, MC/MD, MoR, OEF, PPM, PSOA, SB, TOA, WOA, and some others...

Favourite album ?:

Come on it's impossible to answer that... for quote a big classic "Show no mercy"

How did you find out about TShirtSlayer? :

I heard about it from friends.

Last Seen Wearing

I have not marked anything as currently worn yet! sorry!
Upload stats

| Count | Type |
| --- | --- |
| 36 | TShirt or Longsleeve |
| 68 | Tape / Vinyl / CD / Recording etc |
| 13 | Pin / Badge |
| 42 | Patch |
| 1 | Other Collectable |

Upload trade status

| Count | Type |
| --- | --- |
| 22 | Sold |
| 107 | Sale only |
| 31 | Not for sale or trade |

Bands uploaded

| Count | Band |
| --- | --- |
| 15 | Cradle Of Filth |
| 11 | Deicide |
| 6 | Cannibal Corpse |
| 4 | Iron Maiden |
| 4 | Nightwish |
| 4 | Kreator |
| 4 | Slayer |
| 3 | Bolt Thrower |
| 3 | Gorefest |
| 3 | Morbid Angel |
| 3 | Dimmu Borgir |
| 3 | Carcass |
| 3 | Cruachan |
| 3 | Sepultura |
| 3 | Overkill |
| 3 | Benediction |
| 2 | Ancient |
| 2 | Epica |
| 2 | The Sins Of Thy Beloved |
| 2 | Burzum |
| 2 | Obituary |
| 2 | Pain |
| 2 | Death |
| 2 | Dark Tranquillity |
| 2 | Morgoth |
| 2 | Asphyx |
| 2 | Misanthrope |
| 2 | Mayhem |
| 2 | Apocalyptica |
| 2 | Pestilence |
| 2 | Hypocrisy |
| 1 | Exodus |
| 1 | Korpiklaani |
| 1 | In Flames |
| 1 | Exciter |
| 1 | Loudblast |
| 1 | Venom |
| 1 | Hefeystos |
| 1 | Entombed |
| 1 | Grave |
| 1 | Trallaxxl |
| 1 | Haggard |
| 1 | Brutal Truth |
| 1 | Monstrosity |
| 1 | Mortiis |
| 1 | Total Self Hatred |
| 1 | Golden Dawn |
| 1 | Anthrax |
| 1 | Napalm Death |
| 1 | Summoning |
| 1 | Tiamat |
| 1 | Enthroned |
| 1 | Sinergy |
| 1 | Pungent Stench |
| 1 | Alestorm |
| 1 | Therion |
| 1 | Einherjer |
| 1 | Revenant |
| 1 | Sodom |
| 1 | Arkona |
| 1 | Dismal Euphony |
| 1 | Old Man's Child |
| 1 | Septic Flesh |
| 1 | Various Artists |
| 1 | Unleashed |
| 1 | Dissection |
| 1 | Tankard |
| 1 | Impaled Nazarene |
| 1 | Immortal |
| 1 | Moonspell |
| 1 | Daemonarch |
| 1 | Ozzy Osbourne |
| 1 | Messiah |
| 1 | Darkthrone |
| 1 | Baphomet |
| 1 | Samael |
| 1 | Cancer |
| 1 | Autopsy |
| 1 | Paradise Lost |
| 1 | Die Apokalyptischen Reiter |
| 1 | Dismember |
| 1 | Lacrimosa |
| 1 | Ancient Rites |
| 1 | Fear Factory |
| 1 | Manowar |
| 1 | Katatonia |

Show all bands

Last logged in

5 months 3 days ago

Member for

5 years 10 months

Is following...


jarkkodzilla, DuckyBoy, Badkitty476, DuoQ Imperius, razwar666, toxikdeath06, headbangingmadness, MayyatH, Nick RZSH, DoctorDeath, Jewcomplains, kotkamat, NLLeeuw, vikingdantheman, Lef_Deppard, Richard Metal, Axehead, Grimmfist, exumer_09, DethronedEmperor23, dubtribe, Rotten, Executer, lole66, MattCore_13