Volk
Trade history
1 items received from others.
This member does not have any trade history.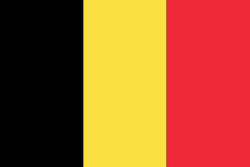 About
Tell us about yourself?:

26 Old guy who lives in Bilzen (Belgium) I live my metal days going to concerts and festivals, and hoping to discover all kinds of cool bands, I collect CD's my collection can be viewed at rateyourmusic.

And affcourse for the passion of it, I buy shirts of the bands i am really into.
My CD collection can be viewed on rateyourmusic:

https://rateyourmusic.com/~Knocklekopf

Aside of these hobbys i am a supporter of Royal Standard Club Liège.

And i am into training and sports.

What's your reason for joining tshirtslayer?:

finding interesting merch, and meet with people who also have a fine taste within the music.

Do you goto any festivals or shows?:

Netherlands Death Fest, Eindhoven Metal Meeting,Graspop , Thronefest, Rock Werchter, Pukkelpop, Dour, Roadburn, Desertfest, And all the interesting shows in Belgium, and in the Netherlands.

Favourite album ?:

Deathspell Omega - Paracletus, Burzum - Filosofem, Darkspace - Dark III, Nightbringer - Death and the Black Works, Wolves in the Throneroom- Two Hunters, Leviathan - Mass Conspiracy against all Life

Which bands are you into?:

How did you find out about TShirtSlayer? :

BHMOXM who sold Deathspell Omega patch.
Last logged in

12 min 55 sec ago

Upload stats

| Count | Type |
| --- | --- |
| 19 | TShirt or Longsleeve |
| 2 | Pin / Badge |
| 8 | Patch |
| 1 | Other Collectable |
| 4 | Hooded Top |
| 3 | Battle Jacket |

Upload trade status

| Count | Type |
| --- | --- |
| 2 | Sold |
| 4 | Sale or Trade |
| 1 | Sale only |
| 30 | Not for sale or trade |

Bands uploaded

| Count | Band |
| --- | --- |
| 7 | Watain |
| 5 | Nightbringer |
| 5 | Deathspell Omega |
| 4 | Behemoth |
| 4 | Gojira |
| 4 | Emperor |
| 3 | Gorgoroth |
| 3 | Schammasch |
| 3 | Der Weg Einer Freiheit |
| 3 | Mgła |
| 3 | Mayhem |
| 3 | Meshuggah |
| 3 | Батюшка |
| 3 | Darkspace |
| 3 | Burzum |
| 3 | Wolves In The Throne Room |
| 2 | Deus Mortem |
| 2 | Bethlehem |
| 2 | Carcass |
| 2 | Agalloch |
| 2 | Taake |
| 2 | Inquisition |
| 2 | Deafheaven |
| 2 | The Committee |
| 2 | Darkthrone |
| 2 | Leviathan |
| 2 | Wiegedood |
| 2 | Celtic Frost |
| 1 | Devin Townsend Project |
| 1 | Napalm Death |
| 1 | Anaal Nathrakh |
| 1 | Fen |
| 1 | Mirrorthrone |
| 1 | In Flames |
| 1 | Woods Of Ypres |
| 1 | Amenra |
| 1 | Motörhead |
| 1 | Nargaroth |
| 1 | Kreator |
| 1 | Enthroned |
| 1 | URFAUST |
| 1 | Finntroll |
| 1 | Bloodbath |
| 1 | Dark Funeral |
| 1 | Dillinger Escape Plan |
| 1 | One Tail One Head |
| 1 | Rammstein |
| 1 | Dead Kennedys |
| 1 | Kriegsmaschine |
| 1 | Cattle Decapitation |
| 1 | Moloch |
| 1 | Amon Amarth |
| 1 | Carach Angren |
| 1 | Bell Witch |
| 1 | Sunn O))) |
| 1 | Opeth |
| 1 | Venom |
| 1 | Irkallian Oracle |
| 1 | Fear Factory |
| 1 | Behexen |
| 1 | Bestia Arcana |
| 1 | Abbath |
| 1 | Dimmu Borgir |
| 1 | ARCHGOAT |
| 1 | Imperial Triumphant |
| 1 | Death |
| 1 | Black Witchery |
| 1 | Bathory |
| 1 | Septic Flesh |
| 1 | Uada |
| 1 | Anthrax |
| 1 | Inferno |
| 1 | Dissection |
| 1 | Battle Dagorath |
| 1 | Slipknot |
| 1 | Plaga |
| 1 | Bathsheba |
| 1 | Lamb Of God |
| 1 | Furia |
| 1 | Solstafir |
| 1 | Slayer |
| 1 | Triptykon |
| 1 | Shining |

Show all bands

Member for

9 months 4 weeks

Is following...


samael6666, Ravishing Grimness