H8RED4EVER

H8RED4EVER
is a TShirtSlayer supporter and wields the mighty sword!

Trade history
5 pending seller/trader reviews
49 great seller/trader reviews
9 items received from others
More info click here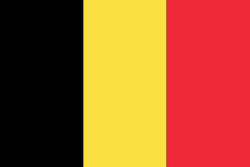 About
Tell us about yourself?:

I hail from Belgium, the Flanders part more specifically. Have been into metal since the mid 90's. Initially gathered my collection through tape trading and started buying shirts when attending gigs. Have been searching for a way to visualize my collection of shirts and at the same time give persons the opportunity to buy those shirts from me I no longer cherish.

Feel free to check my wantlist and get in touch if you have any of those listed items for trade or sale:
https://tshirtslayer.com/user/17622/wanted
I'm also in the middle of digitalizing my music, this is a work in progress, a sneak previous on a part of my collection can be found here:
https://www.discogs.com/user/H8RED4EVER/collection

Still in search for some music to complete your collection with, I prefer trades, please do have a look at the following:
https://www.discogs.com/seller/H8RED4EVER/profile

What's your reason for joining tshirtslayer?:

Visualize my collection and offer shirts seekers the possibility to trade or buy those shirts from me I no longer desire and eventually obtain shirts I would like to add to my collection

Do you goto any festivals or shows?:

I have attended Graspop (Belgium) and Dynamo Open Air (Holland) for many many years.
Also co-organized festivals where we have booked some pretty big artists which is no longer possible today. Currently Alcatraz (Belgium) and Eindhoven Metal Meeting (Holland) are my favourites to be visited festivals

Favourite album ?:

This one is impossible to answer, my music taste is too wide so I can't make a choice really

Which bands are you into?:

How did you find out about TShirtSlayer? :

I found the site once accidently but lost it again until a friend of mine introduced it for me and I recognized it

Last Seen Wearing

I have not marked anything as currently worn yet! sorry!
Upload stats

| Count | Type |
| --- | --- |
| 272 | TShirt or Longsleeve |
| 2 | Tape / Vinyl / CD / Recording etc |
| 21 | Pin / Badge |
| 9 | Other Collectable |
| 12 | Hooded Top |

Upload trade status

| Count | Type |
| --- | --- |
| 116 | Sale or Trade |
| 200 | Not for sale or trade |

Bands uploaded

| Count | Band |
| --- | --- |
| 18 | Anthrax |
| 11 | Entombed |
| 10 | Lifelover |
| 8 | Hypothermia |
| 8 | Lugubrum |
| 7 | Shining |
| 7 | Katatonia |
| 7 | Dark Tranquillity |
| 6 | At The Gates |
| 6 | Necrophobic |
| 6 | LVTHN |
| 6 | Edge Of Sanity |
| 5 | Cult Of Luna |
| 5 | Hypocrisy |
| 5 | Overkill |
| 5 | Motörhead |
| 4 | Naglfar |
| 4 | Grave |
| 4 | Death |
| 4 | In Flames |
| 4 | Thesyre |
| 4 | Cradle Of Filth |
| 4 | Marduk |
| 3 | Sepulchral Entombment |
| 3 | Silencer |
| 3 | Kiss |
| 3 | Malevolent Creation |
| 3 | Dark Funeral |
| 3 | Nuclear Assault |
| 3 | Dismember |
| 3 | Wanhoop |
| 3 | Arckanum |
| 3 | Exhorder |
| 2 | Scorpions |
| 2 | Insanity Reigns Supreme |
| 2 | Craft |
| 2 | The Haunted |
| 2 | Saxon |
| 2 | Grotesque |
| 2 | Nihilist |
| 2 | Nocturnus |
| 2 | Guns N' Roses |
| 2 | Tiamat |
| 2 | Vio-Lence |
| 2 | Leprous |
| 2 | Diagnose: Lebensgefahr |
| 2 | Tribulation |
| 2 | Life Of Agony |
| 2 | Opeth |
| 2 | Arch Enemy |
| 2 | Dissection |
| 2 | Vanhelgd |
| 2 | Van Halen |
| 2 | Judas Priest |
| 1 | Darkthrone |
| 1 | Megadeth |
| 1 | Lion's Pride |
| 1 | Carnage |
| 1 | Exodus |
| 1 | Vi Som Älskade Varandra Så Mycket |
| 1 | Moment Maniacs |
| 1 | MONO |
| 1 | Mötley Crüe |
| 1 | Ezekiel28 |
| 1 | Alfahanne |
| 1 | In-Quest |
| 1 | Triptykon |
| 1 | Morbid |
| 1 | Forgotten Tomb |
| 1 | Svartnar |
| 1 | Rule Of Thumb |
| 1 | Brutality |
| 1 | Morbus Chron |
| 1 | Skitliv |
| 1 | Crown Of Thorns |
| 1 | Black Sabbath |
| 1 | Ghost |
| 1 | The Quiescent |
| 1 | Impaled Nazarene |
| 1 | Therion |
| 1 | S.O.D. |
| 1 | Cyclone |
| 1 | Pirat |
| 1 | Watain |
| 1 | Joyless |
| 1 | Solstafir |
| 1 | Rush |
| 1 | Trancelike Void |
| 1 | A Forest Of Stars |
| 1 | Bloodbath |
| 1 | Sorhin |
| 1 | AC/DC |
| 1 | Caducity |
| 1 | Abyssmal Sorrow |
| 1 | A Thousand Sufferings |
| 1 | Abba |
| 1 | Kent |
| 1 | Afflicted |
| 1 | Suicidal Tendencies |
| 1 | Kreator |
| 1 | Anathema |
| 1 | Helvete |
| 1 | Sacred Reich |
| 1 | Krohm |
| 1 | Amon Amarth |
| 1 | Acrimonious |
| 1 | Diabolique |
| 1 | Immemoreal |
| 1 | Leviathan (Swe) |
| 1 | Iced Earth |
| 1 | Onslaught |
| 1 | Annihilator |
| 1 | The Black |
| 1 | Metalblade |
| 1 | Demolition Hammer |
| 1 | The Deadbeats |
| 1 | Dimhymn |
| 1 | Ulver |
| 1 | PRE MORTEM |
| 1 | Mythic |
| 1 | Inquisitor |
| 1 | Flotsam And Jetsam |
| 1 | Luguber Tomb |
| 1 | Ophthalamia |
| 1 | Unleashed |
| 1 | Soulreaper |
| 1 | Autopsy |
| 1 | Bolt Thrower |
| 1 | Madrugada |
| 1 | Pan.Thy.Monium |
| 1 | Ozzy Osbourne |
| 1 | Vampire |
| 1 | Armagedda |
| 1 | Darkified |
| 1 | Carpathian Forest |
| 1 | Confessor |
| 1 | Bay Laurel |
| 1 | Excess Of Cruelty |
| 1 | Arkha Sva |
| 1 | D.R.I. |
| 1 | Bethlehem |
| 1 | Venesect |
| 1 | Evergrey |
| 1 | Slayer |
| 1 | Dimmu Borgir |
| 1 | Mayhem |
| 1 | Obituary |
| 1 | Bunkur |
| 1 | Verloren |
| 1 | Confessions Of Obscurity |

Show all bands

Last logged in

11 hours 22 min ago

Member for

4 years 1 month

Is following...


Modertroll, jesuskent, Misanthropic, ZD, Blakkheim, TheGirlWhoWasDeath, NekroMoose, wedebrand, ohlinmetalworship, NinjaFighter, DoctorDeath